Book your flight to Amsterdam with Icelandair from
Fly in the next three months: Flights to Amsterdam
Seattle (SEA)to
Amsterdam (AMS)
Feb 07 2024 - Feb 12 2024
Seattle (SEA)to
Amsterdam (AMS)
Feb 21 2024 - Feb 26 2024
Seattle (SEA)to
Amsterdam (AMS)
Feb 06 2024 - Feb 16 2024
Chicago (ORD)to
Amsterdam (AMS)
Jan 08 2024 - Jan 15 2024
Denver (DEN)to
Amsterdam (AMS)
Dec 11 2023 - Dec 15 2023
Chicago (ORD)to
Amsterdam (AMS)
Feb 21 2024 - Mar 05 2024
Denver (DEN)to
Amsterdam (AMS)
Jan 22 2024 - Jan 27 2024
Denver (DEN)to
Amsterdam (AMS)
Feb 17 2024 - Feb 20 2024
Baltimore (BWI)to
Amsterdam (AMS)
Jan 09 2024 - Jan 13 2024
Baltimore (BWI)to
Amsterdam (AMS)
Jan 10 2024 - Jan 14 2024
Chicago (ORD)to
Amsterdam (AMS)
Feb 11 2024 - Feb 27 2024
Boston (BOS)to
Amsterdam (AMS)
Jan 27 2024 - Feb 04 2024
*Fares displayed have been collected within the last 72hrs and may no longer be available at the time of booking
Plan ahead for your trip to Amsterdam with Icelandair
From

Denver (DEN)

To

Amsterdam (AMS)
Round trip

/

Economy
Oct 01 2024 - Oct 12 2024

From

USD 583*

From

Denver (DEN)

To

Amsterdam (AMS)
Round trip

/

Economy
Apr 12 2024 - Apr 24 2024

From

USD 583*

From

Seattle (SEA)

To

Amsterdam (AMS)
Round trip

/

Economy
Apr 11 2024 - May 03 2024

From

USD 907*

From

Seattle (SEA)

To

Amsterdam (AMS)
Round trip

/

Economy
Mar 13 2024 - Mar 19 2024

From

USD 943*

From

Seattle (SEA)

To

Amsterdam (AMS)
Round trip

/

Economy
Nov 05 2024 - Nov 19 2024

From

USD 533*

From

Baltimore (BWI)

To

Amsterdam (AMS)
Round trip

/

Economy
Apr 17 2024 - Apr 25 2024

From

USD 632*

From

Baltimore (BWI)

To

Amsterdam (AMS)
Round trip

/

Economy
Apr 22 2024 - May 08 2024

From

USD 637*

From

Boston (BOS)

To

Amsterdam (AMS)
Round trip

/

Economy
Mar 20 2024 - Mar 27 2024

From

USD 676*

From

Chicago (ORD)

To

Amsterdam (AMS)
Round trip

/

Economy
Aug 16 2024 - Aug 23 2024

From

USD 963*
*Fares displayed have been collected within the last 72hrs and may no longer be available at the time of booking
What to see and do in Amsterdam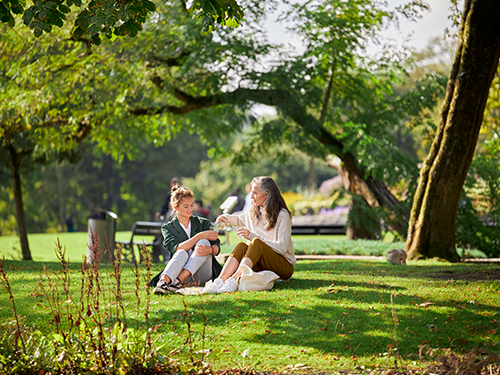 Best time to fly to Amsterdam
Amsterdam is a fantastic place to visit all year round. However, the most popular season for tourism is in the summer months of June to August, when the weather is relatively warm, and visitors can enjoy plenty of open-air activities and events.
A quieter period to visit Amsterdam is between November and February. Airline tickets to Amsterdam are typically cheaper during this period, but the temperature will be lower, and we recommend travelers pack an umbrella as rainfall is more frequent than at other times of year.
With this in mind, the best time to book flights to Amsterdam, Netherlands, is probably in either April or September. In those months, it is warm enough to enjoy outdoor exploring, but the high season hasn't quite kicked off yet, so travelers can still enjoy relatively crowd-free exploring.
Getting around Amsterdam
Exploring Amsterdam by bike is one of the most popular ways to get around the city. Travelers can rent a bike for around 10 euros a day. Walking is another great option to discover the city for yourself.
The public transport system in Amsterdam is also very convenient. You can purchase a public transport chipcard (called an OV-chipkaart). Once topped up, you can use this card for travel on trams, buses, metros, and ferries. The card is valid for up to 5 years – just in case you need another excuse to visit Amsterdam again.
Finding good car parking in the city center can be tricky, so we suggest skipping the car rental in favor of cycling or using the Dutch public transport system.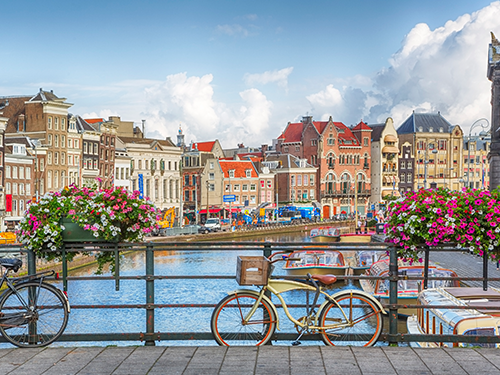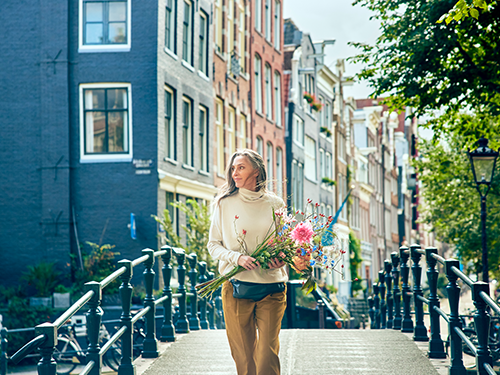 Things to do in Amsterdam
The chameleon city of Amsterdam has many faces. It does highbrow with ease, giving you blockbuster art from homegrown icons like Rembrandt and Van Gogh – with the Van Gogh Museum being a favorite among locals and travelers alike.
But the city also has a colorful culture, from its brown cafés (the name for traditional pubs) to the renowned red-light district.
If you're looking to learn about the city's history, visit Anne Frank's House for a somber glimpse into the past.
Take a wander through the city center to see Golden Age architecture and traditional canals that will make you wish you had time to explore every cobbled street in the city.
The best markets in Amsterdam
Amsterdam is also a paradise for anyone who likes mooching in outdoor markets.
Waterlooplein Markt is the flea market to top all flea markets, but there are also other local markets if you are looking for antiques, art, and old books.
Albert Cuypmarkt, the largest and most popular outdoor market in Amsterdam, is a multicultural melting pot of spice and color.
Up for a bit of sensory overload? The fabulously fragrant flower market Bloemenmarkt is the place to go! You didn't really think we'd talk about Amsterdam without mentioning tulips, did you?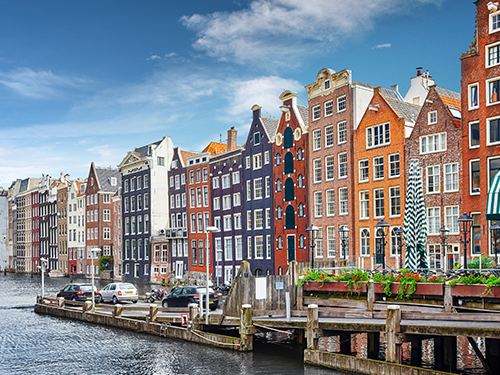 What to eat in Amsterdam
Vlaamse frites might just be the best thing about Amsterdam. These hot, crunchy French fries are smothered in mayonnaise, and you can find them in the wide range of cafes and frituur's (fast food restaurants that serve fried food) around the city.
And if there's one thing that we know to be true, it's that the Dutch know good cheese when they see it. There are several towns in the Netherlands famed for their cheese (hello Gouda and Edam!).
Raw herring is another local flavor that's love-it-or-leave-it. But perhaps the biggest 'homegrown' surprise on the food front is the rijsttafel. This is an Indonesian banquet - literally meaning "rice table" - and is a dish influenced by Dutch colonial history.
Places to eat and drink in Amsterdam
Enjoy your Dutch frites with a local beer at any of the countless outdoor cafes, where you can enjoy breathtaking canal views and endless people-watching.
We also recommend dropping by the Foodhallen for some tasty touring and to sample another Dutch delicacy: bitterballen.
Bitterballen are delicious, meat-filled croquettes that are often served alongside beer in bars and eateries.
That said, there is seemingly no end to restaurants and bars in Amsterdam, Netherlands. You'll find excellent food and drink options at almost every corner.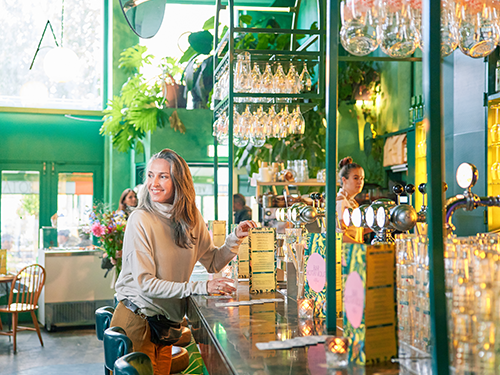 FAQs about travel to Amsterdam
Helpful information for travelers to Amsterdam
When is the cheapest time to fly to Amsterdam?
Airline tickets to Amsterdam are cheapest outside of the peak season (between May and August), and you can expect low fares to Amsterdam in the colder months. For example, November and February tend to be the months when travelers can find cheap flights to Amsterdam.
How long is the flight from the US to Amsterdam?
Typically, direct flights to Amsterdam airport take between 7-11 hours depending on where in the US you're traveling from.
You can break up longer flights with a stopover in Iceland, which can provide some much-needed rest and relaxation for long-haul passengers. Stopover passengers can spend up to 7 days in Iceland at no additional airfare and enjoy everything Iceland has to offer on their way to Amsterdam.
What US cities fly direct to Amsterdam?
How far is it from Schiphol airport to Amsterdam city center?
Amsterdam Airport Schiphol (AMS) is approximately 14 miles (22km) from the center of Amsterdam. You can reach the city center from the airport by taxi, bus, or train. Some hotels or other accommodation options may even offer a hotel shuttle service from Amsterdam Schiphol to the city center.
Make the most of your trip