Book your flight to Berlin with Icelandair from
Fly in the next three months: Flights to Berlin
Seattle (SEA)to
Berlin (BER)
Feb 03 2024 - Feb 12 2024
Boston (BOS)to
Berlin (BER)
Dec 23 2023 - Dec 31 2023
Chicago (ORD)to
Berlin (BER)
Dec 18 2023 - Dec 23 2023
Raleigh-Durham (RDU)to
Berlin (BER)
Dec 15 2023 - Dec 22 2023
Seattle (SEA)to
Berlin (BER)
Feb 25 2024 - Mar 01 2024
Orlando (MCO)to
Berlin (BER)
Feb 05 2024 - Feb 10 2024
Seattle (SEA)to
Berlin (BER)
Feb 28 2024 - Mar 05 2024
Orlando (MCO)to
Berlin (BER)
Feb 09 2024 - Feb 19 2024
Washington, D.C. (IAD)to
Berlin (BER)
Feb 07 2024 - Feb 26 2024
Washington, D.C. (IAD)to
Berlin (BER)
Feb 05 2024 - Mar 04 2024
Washington, D.C. (IAD)to
Berlin (BER)
Mar 10 2024 - Mar 25 2024
Raleigh-Durham (RDU)to
Berlin (BER)
Mar 02 2024 - Mar 23 2024
*Fares displayed have been collected within the last 72hrs and may no longer be available at the time of booking
Plan ahead for your trip to Berlin with Icelandair
From

Chicago (ORD)

To

Berlin (BER)
Round trip

/

Economy
Mar 29 2024 - Apr 06 2024

From

USD 593*

From

Chicago (ORD)

To

Berlin (BER)
Round trip

/

Economy
Jul 12 2024 - Aug 17 2024

From

USD 604*

From

Seattle (SEA)

To

Berlin (BER)
Round trip

/

Economy
Apr 02 2024 - Apr 16 2024

From

USD 593*

From

Seattle (SEA)

To

Berlin (BER)
Round trip

/

Economy
Oct 14 2024 - Oct 21 2024

From

USD 593*

From

Baltimore (BWI)

To

Berlin (BER)
Round trip

/

Economy
May 03 2024 - May 14 2024

From

USD 1,088*

From

Chicago (ORD)

To

Berlin (BER)
Round trip

/

Economy
Jul 19 2024 - Aug 19 2024

From

USD 604*

From

Raleigh-Durham (RDU)

To

Berlin (BER)
Round trip

/

Economy
Apr 13 2024 - Apr 22 2024

From

USD 1,016*

From

Orlando (MCO)

To

Berlin (BER)
Round trip

/

Economy
Sep 26 2024 - Sep 30 2024

From

USD 1,183*

From

Minneapolis (MSP)

To

Berlin (BER)
Round trip

/

Economy
Apr 01 2024 - Jun 30 2024

From

USD 1,480*
*Fares displayed have been collected within the last 72hrs and may no longer be available at the time of booking
What to see and do in Berlin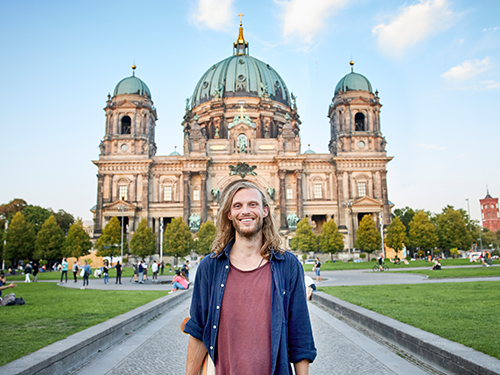 What to expect in Berlin
Situated at the heart of European geography and history, there are endless layers to this super-cool city. It's one of Europe's best destinations for learning about world-altering events, while also enjoying the charming local neighborhood and culture.
And German's capital city has even more to offer than just thought-provoking museums and monuments, though it's clear that these can be found in abundance. The city is also a magnet for European creativity.
You'll find yourself rubbing shoulders with both music and history makers, plus plenty of artists and creatives. Simply head to one of Berlin's iconic hipster bars, underground clubs, or vibrant markets to soak up this atmosphere for yourself.
The best time to fly to Berlin
Berlin is a city that can be enjoyed in every season - with each providing both locals and visitors alike with an entirely new experience. As a result, there really isn't a bad time to visit this incredible city.
Visit in summer to enjoy the best of their outdoor park life, exploring the outdoor markets and drinking beer in their beer gardens.
Travel to Berlin in winter for a completely different experience involving winter markets, mulled wine and cosy stops in Berlin's many cafes.
The shoulder seasons may be the cheapest time to visit, and allow you to sample a bit of both summer and winter in Berlin.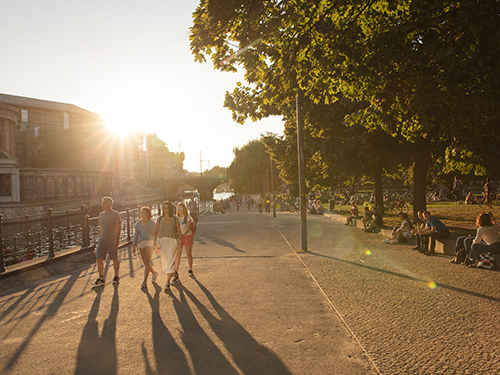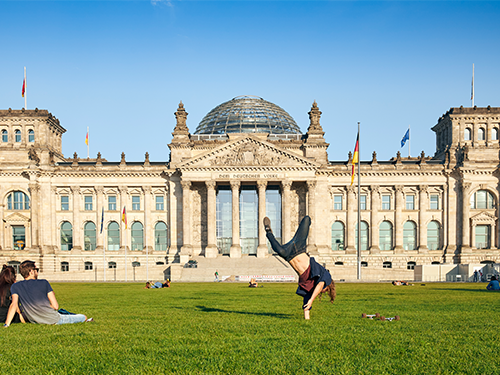 Discover the historic sites of Berlin
Berlin is a history lover's dream. Several major 20th-century events took place in Berlin and the German people have made a conscious effort to remember this history.
To learn more about it, check out the Reichstag (German Parliament), Berlin Brandenburg Gate, or the Holocaust Memorial. A trip to Berlin would also hardly be complete without seeing the remains of the Berlin Wall – the fall of which represents an important moment in both European and German history.
Visit the treasure trove that is Museum Island to reflect on recent history and get your fill of ancient art. This UNESCO World Heritage site is home to five museums and is one of the most visited sights in Berlin.
Pop by the Island on Saturday or Sunday to explore the wares at the famous Berliner Kunstmarkt (Berlin Art Market).
Shopping in Berlin
If shopping is on your list, Kurfürstendamm is the city's prime retail strip (it's also a mouthful, so feel free to call it Kudamm like the locals). It's more than 2 miles long and lined with boutiques and stores.
Luxury-seekers should make their way to Fasanenstrasse to enjoy boutique design stores. Meanwhile, food lovers shouldn't miss the sumptuous food hall inside the KaDeWe department store.
Going to the markets in Berlin is a popular activity among tourists and locals alike. While there are plenty to choose from, the Sunday market at Mauerpark is the perfect place to browse trendy clothing and artwork.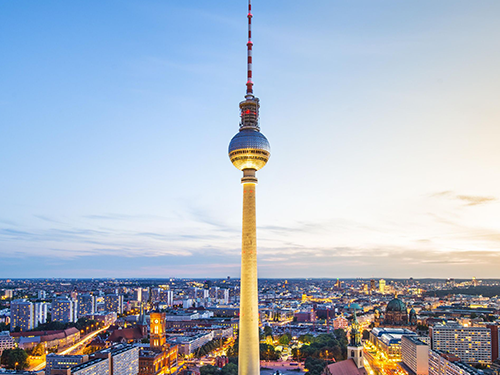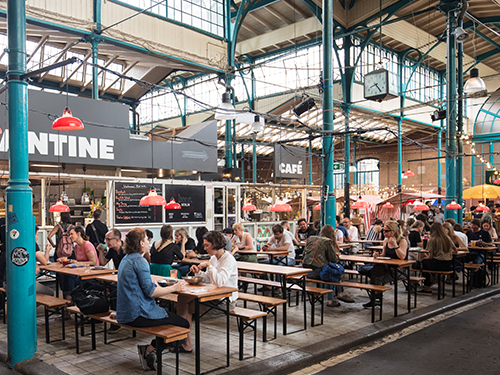 What to eat in Berlin
You can get a taste of the city's favorite flavors from a local imbiss, or fast-food stall. Currywurst (sausage in a curry sauce) is a classic local snack, and there are loads of places selling doner kebabs, another favorite among Berliners. Then there are Spätis, classic 24-hour corner stores selling everything you need, including late-night snacks.
Fast and cheap dining is well covered, but so is fine dining, and there is a smorgasbord of options in between.
You'll find everything from cool coffee bars and rustic wood-paneled taverns to stylish gourmet temples serving on-trend local flavors alongside international dishes.
Where to find the best food spots
Head to neighborhoods like Scheunenviertel, Kreuzberg, Neukölln, and Prenzlauer Berg to explore streets lined with cafes, indie stores, and fun diversions.
You can raise a glass in the city's leafy beer gardens such as the Prater Garten, which opened in 1837 and is a favorite among locals.
Or head to one of the many buzzing 'beach bars' along the Spree River for a relaxed drink with friends.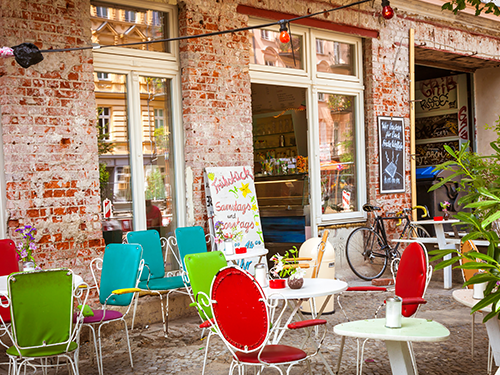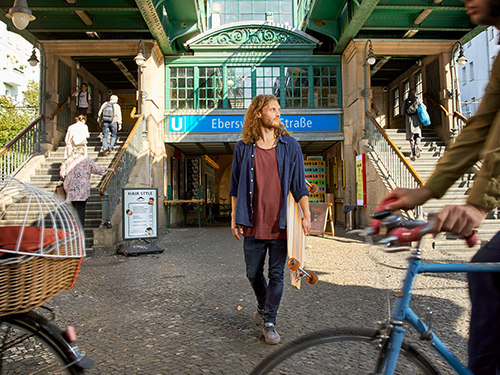 Traveling around Berlin city center
Getting around Berlin is relatively easy thanks to U-Bahn underground trains and S-Bahn overground trains. These are part of the city's BVG public transport system.
Germany's capital is very well connected, so you will likely never be stuck for transport.
The city is a little too spread out to rely solely on walking, though there is plenty you can still explore on foot.
And though renting a car may seem like a convenient option, finding parking in a large city like Berlin can be tricky. Taxis are fairly easy to come by though.
Traveling from the airport to the city center
Icelandair flights land at Berlin Brandenbeurg Airport (BER). To get from there to downtown Berlin, there are several options.
Taking the S-Bahn S9 train is one of the most popular means of getting from the airport to the Hauptbahnhof station in the city center. The trip takes around 50 minutes. As Berlin Airport is in the C zone, passengers should buy an ABC zone ticket for this trip.
The Airport Express Bus X7 (taken from the arrivals level of T1) leaves every 5 minutes and will deliver you to U-Rudow Station, from where you can take a train into the heart of the city.
Of course, there is always the option of taking a taxi from the airport to downtown.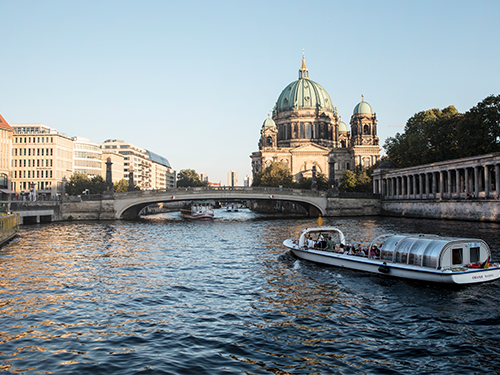 FAQs about travel to Berlin
Helpful information for travelers to Berlin
What US cities fly to Berlin?
How long are flights to Berlin, Germany?
This depends entirely on where you are flying from in the US and how long your layover is. However, as a guide, flights from New York to Berlin can take around 10 hours.
Travelers can choose to Stopover in Iceland for up to 7 days at no additional airfare and enjoy everything Iceland has to offer on their way to Germany.
How can you find cheap tickets to Berlin?
The cheapest month to fly to Berlin is usually either January or February, as this is when there is slightly lower demand.
That isn't to say that other months are a lot more expensive or that you can't find cheap flights to Berlin in these months - we simply recommend booking your flights as far in advance as possible to be in with the best chance of securing a good flight deal.
When should you go to Berlin?
Each season is unique in Berlin and we'd say that it's always a good time to visit this fantastically chic city.
The summer months are long and festive in the city, with locals and travelers alike trying to make the most of the warmer days. Whether you are looking to cool off with a swim at Strandbad Wannsee or indulge in one of the city's beer gardens, the buzz of the city welcomes you.
For those planning to visit in the winter months, make sure you time your trip at the same time as the German Christmas markets, where you'll be able to pick up trinkets while sipping on glühwein.
Make the most of your trip