Book your flight to Copenhagen with Icelandair from
Fly in the next three months: Flights to Copenhagen
Seattle (SEA)to
Copenhagen (CPH)
Jan 02 2024 - Jan 11 2024
Seattle (SEA)to
Copenhagen (CPH)
Feb 09 2024 - Feb 19 2024
Seattle (SEA)to
Copenhagen (CPH)
Jan 07 2024 - Jan 17 2024
Boston (BOS)to
Copenhagen (CPH)
Jan 19 2024 - Jan 31 2024
Boston (BOS)to
Copenhagen (CPH)
Feb 26 2024 - Mar 08 2024
Boston (BOS)to
Copenhagen (CPH)
Jan 31 2024 - Feb 05 2024
Chicago (ORD)to
Copenhagen (CPH)
Mar 08 2024 - Mar 16 2024
Chicago (ORD)to
Copenhagen (CPH)
Dec 20 2023 - Jan 08 2024
Washington, D.C. (IAD)to
Copenhagen (CPH)
Jan 04 2024 - Jan 16 2024
Denver (DEN)to
Copenhagen (CPH)
Feb 08 2024 - Feb 22 2024
Washington, D.C. (IAD)to
Copenhagen (CPH)
Jan 17 2024 - Jan 26 2024
Washington, D.C. (IAD)to
Copenhagen (CPH)
Mar 04 2024 - Mar 10 2024
*Fares displayed have been collected within the last 72hrs and may no longer be available at the time of booking
Plan ahead for your trip to Copenhagen with Icelandair
From

Seattle (SEA)

To

Copenhagen (CPH)
Round trip

/

Economy
Apr 17 2024 - May 10 2024

From

USD 548*

From

Seattle (SEA)

To

Copenhagen (CPH)
Round trip

/

Economy
Apr 11 2024 - Apr 21 2024

From

USD 543*

From

Seattle (SEA)

To

Copenhagen (CPH)
Round trip

/

Economy
Apr 16 2024 - Apr 27 2024

From

USD 543*

From

Boston (BOS)

To

Copenhagen (CPH)
Round trip

/

Economy
Mar 13 2024 - Mar 23 2024

From

USD 519*

From

Boston (BOS)

To

Copenhagen (CPH)
Round trip

/

Economy
Apr 09 2024 - Apr 15 2024

From

USD 519*

From

Boston (BOS)

To

Copenhagen (CPH)
Round trip

/

Economy
Mar 21 2024 - Mar 31 2024

From

USD 519*

From

Washington, D.C. (IAD)

To

Copenhagen (CPH)
Round trip

/

Economy
Nov 20 2024 - Nov 27 2024

From

USD 622*

From

Chicago (ORD)

To

Copenhagen (CPH)
Round trip

/

Economy
Jul 26 2024 - Aug 09 2024

From

USD 728*

From

Washington, D.C. (IAD)

To

Copenhagen (CPH)
Round trip

/

Economy
Apr 23 2024 - Apr 30 2024

From

USD 492*
*Fares displayed have been collected within the last 72hrs and may no longer be available at the time of booking
What to see and do in Copenhagen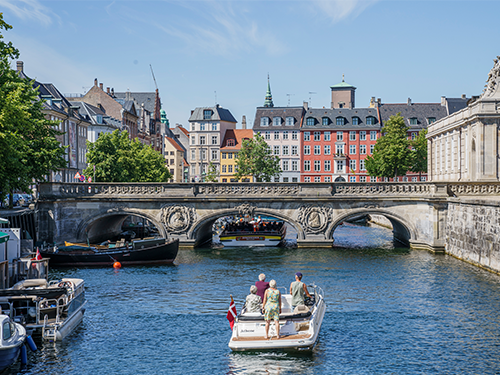 Best time to fly to Copenhagen
Scandinavia's coolest capital has charm in abundance. In recent times, 'Copenhagen style' has become a byword for streamlined design, boundary-pushing food, cool TV dramas, and the healthy worshiping of bicycles.
The best time to fly to Copenhagen really depends on what you want to experience in the city.
For long, warm summer days make sure to book flights between June and August. Or experience Copenhagen's coziness in the winter months of December to February.
Whenever you decide to go, let Icelandair be your guide to Copenhagen, providing practical information about when to go, what to do and how to get around.
Things to do in Copenhagen
The world has become familiar with hygge, the Danish coziness and good cheer that arrives alongside candles, comfort food and good conversation in the company of dear friends.
Well, you'll experience it everywhere in Copenhagen, alongside art-filled museums and clever architectural creations that combine the old and the new.
For anyone interested in Scandinavian history, they can explore royal castles, canals, copper spires, and the vintage Tivoli Gardens Amusement Park, which was established 1843.
For those wanting to experience a different side of the city, there are cutting-edge art galleries, fantastic street food, canal-side swimming pools and hidden speakeasy bars.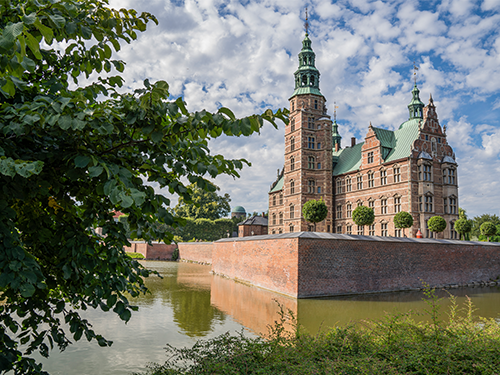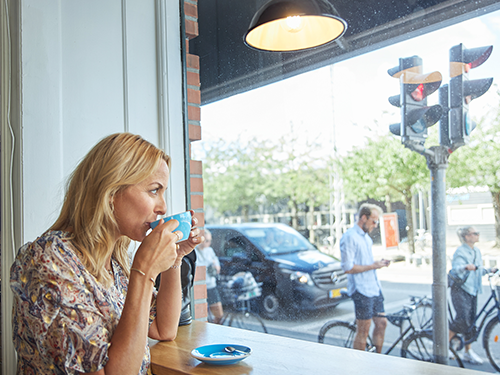 What to eat in Copenhagen
Copenhagen is a hotspot for great food, with local restaurants like Noma receiving global attention for bringing Danish food to the world.
We recommend heading to Torvehallerne, where you can browse the city's stylish food hall and market. If street food is your thing, head to Reffen for outdoor dining in the coolest setting.
The traditional cuisine of Denmark gets tasty with smørrebrød, which are open-faced sandwiches with sculptural toppings. And don't miss a chance to visit old-school bakeries and sample local pastry delights.
Grabbing a pølse (hot dog) from a pølsevogn ("hot dog wagon", or street vendor) is a traveler's rite of passage. Head to Papirøen, a cool waterfront venue housing dozens of street-food stalls primed for street-food sampling.
Shopping the scandinavian style
The strong design aesthetic that permeates Copenhagen is evident in its stores, and shopping here is a pleasure.
Fashion and homewares will call to your credit cards and suitcase space, especially in stores like Illums Bolighus and Magasin du Nord, which are virtually shrines to good taste.
The city also boasts Strøget, one of Europe's longest pedestrian streets. Lined with a heady mix of department stores, design shops and international flagship stores, this is every shop-a-holic's dream.
And if you're looking for something to take home with you, there are some excellent homegrown trinkets at your fingertips.
Did you know that Lego, the titan of the toy world, is a Danish product? Meanwhile, Royal Copenhagen makes beautiful porcelain, and Georg Jensen's shiny silverware will dazzle your loved ones back home.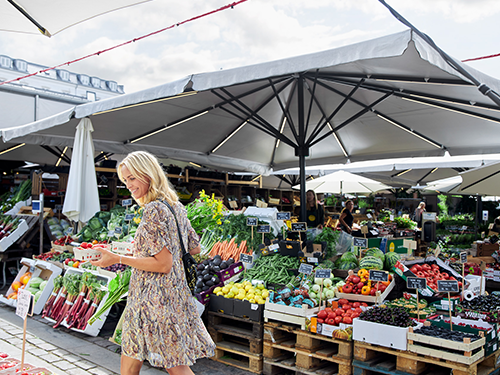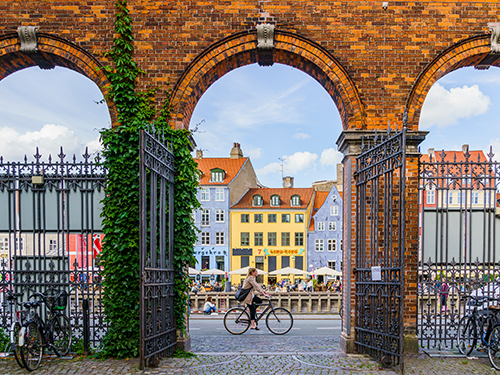 Traveling within Copenhagen
Copenhagen is absolutely a walking city and the best way to get around is on foot or by bike, especially if the weather is good.
There are several bike rental companies (including Donkey Republic and Lime) that have pick-up and drop-off stations around the city. You can rent a bike for a short time, or save money in the long term by renting it for 24 hours or more.
If you want to escape the elements – or give your feet a break – the public transport in the city is excellent. There are metro lines, buses, boats, and an extensive network of train stations.
It's a city with a healthy network of taxis, but no Uber service. Renting a car is an option but walking, cycling and hopping on public transport is, for most travelers, the best way to get around the city.
Getting from the airport to the city
There are several means by which you can get from the airport to the center of Copenhagen.
Taking a taxi is a popular option - it takes 20-30 minutes depending on the traffic and means you'll get delivered right to your accommodation door. You'll find that locals will even cycle the distance, and bikes are available to rent outside the airport if you're traveling light.
In terms of public transport, taking the metro or overground train is arguably the easiest way to get from the airport to the heart of downtown Copenhagen. They have 24/7 service and take just 15 minutes.
The journey by bus is a little less convenient as it takes around 35 minutes, though it is the cheapest way to get from Copenhagen Airport to downtown.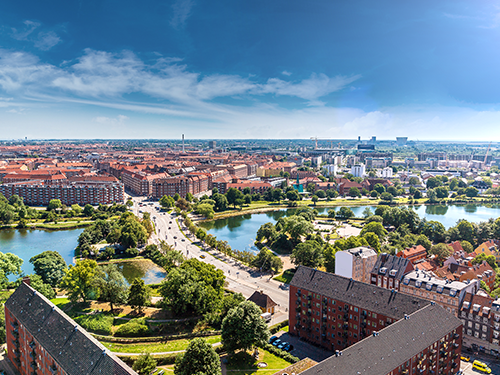 FAQs about travel to Copenhagen
Helpful information for travelers to Copenhagen
What US cities fly to Copenhagen?
How long are flights to Copenhagen?
This depends entirely on where you are flying from in the United States and how long your layover is. As an example, flights from New York to Copenhagen can take on average 12 hours.
When is the cheapest time to fly to Copenhagen?
The cheapest time to fly to Copenhagen is usually in the winter months, as this is when there is a slightly lower demand.
But that's not to say that travelers are guaranteed to find the cheapest flights to Denmark at that time of year.
What we really recommend is that travelers book in advance to find the best flight deals, as cheap flights to Copenhagen have even been found in the summer months.
When should you go to Copenhagen?
There's never a bad time to visit Denmark, which can make it tricky to choose your travel dates.
Copenhagen's high season runs from May to August, with July being the warmest month in the city, and a lot of events, festivals and activities taking place. If you are interested in spending your time outdoors, this is an exciting time to visit.
In the winter months, temperatures plummet and the sun can set as early as 3:30pm. However, this is a perfect opportunity to embrace the Danish practice of hygge and get introduced to their ways of embracing the coziness, comfort and contentment of the winter season.
Make the most of your trip