Book your flight to London with Icelandair from
Fly in the next three months: Flights to London
Chicago (ORD)to
London (LHR)
Feb 20 2024 - Mar 20 2024
Chicago (ORD)to
London (LHR)
Jan 29 2024 - Feb 18 2024
Chicago (ORD)to
London (LHR)
Feb 15 2024 - Feb 20 2024
Baltimore (BWI)to
London (LHR)
Jan 03 2024 - Jan 08 2024
Baltimore (BWI)to
London (LHR)
Jan 13 2024 - Jan 22 2024
Baltimore (BWI)to
London (LHR)
Jan 12 2024 - Jan 14 2024
Seattle (SEA)to
London (LHR)
Jan 11 2024 - Jan 16 2024
Boston (BOS)to
London (LHR)
Feb 09 2024 - Feb 15 2024
Seattle (SEA)to
London (LHR)
Mar 05 2024 - Mar 17 2024
Washington, D.C. (IAD)to
London (LHR)
Jan 24 2024 - Jan 31 2024
Seattle (SEA)to
London (LHR)
Mar 03 2024 - Mar 19 2024
Boston (BOS)to
London (LHR)
Jan 11 2024 - Jan 16 2024
*Fares displayed have been collected within the last 72hrs and may no longer be available at the time of booking
Plan ahead for your trip to London with Icelandair
From

Chicago (ORD)

To

London (LHR)
Round trip

/

Economy
Apr 16 2024 - Apr 24 2024

From

USD 693*

From

Chicago (ORD)

To

London (LHR)
Round trip

/

Economy
May 04 2024 - May 18 2024

From

USD 803*

From

Baltimore (BWI)

To

London (LHR)
Round trip

/

Economy
Sep 10 2024 - Sep 19 2024

From

USD 626*

From

Seattle (SEA)

To

London (LHR)
Round trip

/

Economy
Mar 19 2024 - Apr 02 2024

From

USD 599*

From

Seattle (SEA)

To

London (LHR)
Round trip

/

Economy
Apr 15 2024 - Apr 21 2024

From

USD 599*

From

Baltimore (BWI)

To

London (LHR)
Round trip

/

Economy
Sep 18 2024 - Oct 11 2024

From

USD 648*

From

Seattle (SEA)

To

London (LHR)
Round trip

/

Economy
Mar 05 2024 - Mar 17 2024

From

USD 597*

From

Chicago (ORD)

To

London (LHR)
Round trip

/

Economy
Apr 01 2024 - Apr 05 2024

From

USD 688*

From

Washington, D.C. (IAD)

To

London (LHR)
Round trip

/

Economy
Apr 17 2024 - May 16 2024

From

USD 533*
*Fares displayed have been collected within the last 72hrs and may no longer be available at the time of booking
What to see and do in London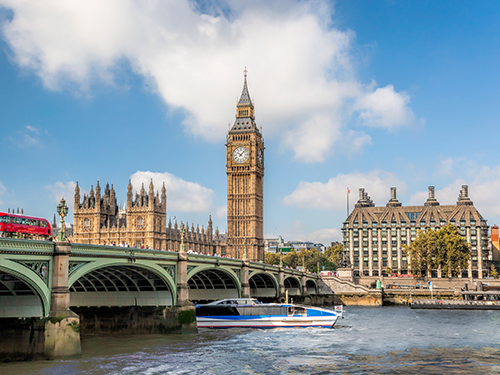 Best time to fly to London
One of the best times to visit London is in the springtime (from March through to May). Temperatures are mild, it's not too humid, and the city's many parks are in full bloom.
Spring and summer are the busiest times for tourism, so be sure to book your flight tickets to London well in advance if you plan on traveling during this time.
Want to fly to London outside peak season? The fall and winter months are perfect for exploring the city's many museums and immersing yourself in the culture.
Plenty of festive events take place in the build-up to Christmas and the New Year, which can provide a cozier, cheerier experience and a different vacation overall, compared to the summer.
The verdict? There really is no bad time to visit London.
Getting around London
You may wish to invest in an Oyster card for your trip – a pay-as-you-go travel card that you can use on all London public transport. London separates into travel zones 1-6, and each zone has its own pricing system, so be sure to check your route before you travel.
The London Underground, generally referred to as the Tube, is one of the world's oldest underground rail systems. It's also one of the cheapest and most efficient ways to get around the city.
Hopping on one of London's iconic red double-decker buses is also a great way to see the city.
If you want more privacy, you can grab a black cab or use a private hire app like Uber or Bolt.
To explore further afield, you can hire a car, but the national rail network in the UK will usually get you wherever you need to go.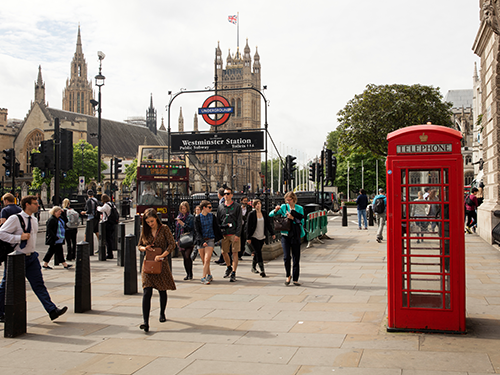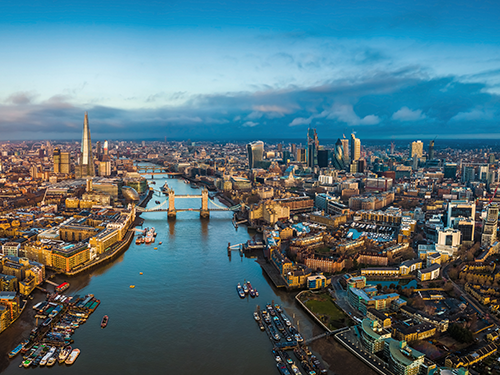 What to visit in London
Royalty, palaces, and monuments mix with world-leading fashion, music, and theater, ensuring you'll never run out of things to do in this illustrious capital.
A visit to London is like a tour through a history book. It's hard to resist watching the Changing of the Guard at Buckingham Palace or checking your watch with Big Ben, but there's much more to London than its historic buildings and landmarks.
London is also world-renowned for its shopping. One of the best experiences in the city is taking a trip to Harrods or Selfridges department stores to view some of the finest food halls and designer galleries in the world.
With a spot of luxury on Bond Street, the latest trends in Oxford Street, and vintage treasures on Portobello Road, you'll find an abundance of stores to suit any style.
Enjoy the London cultural scene
If it's the culture you seek, you'll want to check out the Houses of Parliament for an insight into the instruments of British politics.
Visit famous landmarks and tourist attractions including the London Eye, where you can enjoy panoramic views of the city, and the Tower of London, a stone's throw from Tower Bridge, where you can soak up some of the city's rich history.
London has a huge variety of museums and art galleries, with most of the big ones offering free entry. You can glimpse the famous Magna Carta in the British Library (formerly part of the British Museum), browse iconic outfits throughout history in the V&A, and see ancient dinosaur bones in the Natural History Museum, all without spending a single penny!
The theater scene is also world-famous. London is home to everything from huge musicals on the West End to historic plays at Shakespeare's Globe to the National Theatre on Southbank.
With endless options for entertainment and cultural hotspots to explore, it's safe to say that you'll never be short of plans.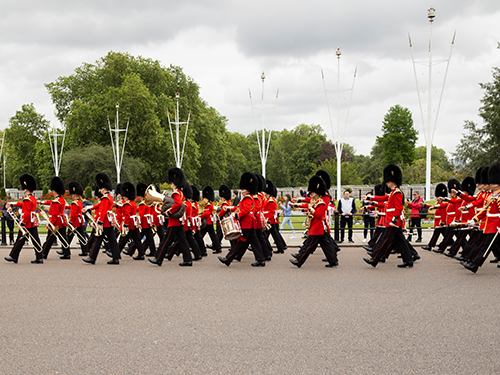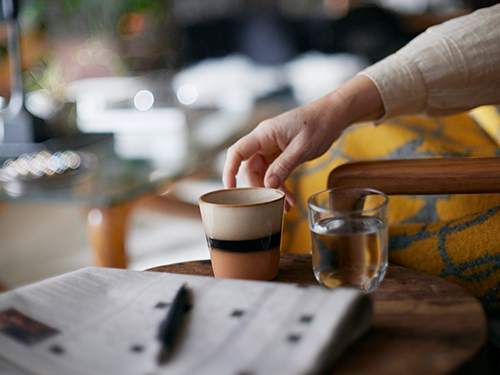 Eating and drinking in London
With its vast range of cuisines and dining options, London is considered one of the world's food capitals.
Experience the English pub culture by enjoying a pint alongside some staple British food like fish and chips or a Sunday roast. Alternatively, take a trip to one of the city's many skyline restaurants for an extra special night out.
You'll find some of the best eateries in London in the city's many food markets. Be sure to check out the city's most famous, such as Borough or Spitalfields markets which boast the largest selection.
This is just the tip of the iceberg of all the food and drinks on offer, but the beauty of visiting is being able to discover your own favorite spots.
The London shopping scene
Of the 30 million tourists visiting London every year, many will choose London as a destination specifically for its shopping scene.
Besides the world-renowned Oxford Street, where you'll find internationally renowned brands and labels, London has so much more to offer in terms of shopping experiences.
On Bond Street, you'll find an excellent selection of art galleries and luxury goods shops. Whereas, you can head to Brick Lane for vintage shopping, cozy bookstores, and an unrivaled hipster atmosphere.
If you're looking for a sophisticated market experience in London, Camden Market is the most popular option. You'll find everything from clothing and art to street food and homewares.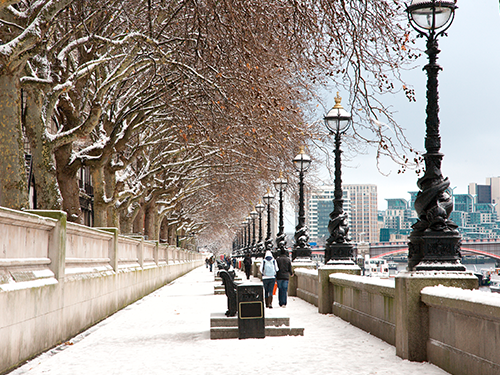 FAQs about travel to London
Helpful information for travelers to London
What month is the cheapest to fly to London?
Is it better to fly into Heathrow or Gatwick?
How long is a flight from the US to London?
Do you need a visa to fly to London?
Make the most of your trip