Book your flight to Paris with Icelandair from
Fly in the next three months: Flights to Paris
Seattle (SEA)to
Paris (CDG)
Feb 01 2024 - Feb 11 2024
Seattle (SEA)to
Paris (CDG)
Feb 14 2024 - Feb 21 2024
Seattle (SEA)to
Paris (CDG)
Jan 08 2024 - Jan 16 2024
Chicago (ORD)to
Paris (CDG)
Feb 26 2024 - Mar 02 2024
Chicago (ORD)to
Paris (CDG)
Feb 11 2024 - Feb 16 2024
Washington, D.C. (IAD)to
Paris (CDG)
Jan 17 2024 - Jan 22 2024
Boston (BOS)to
Paris (CDG)
Feb 28 2024 - Mar 13 2024
Washington, D.C. (IAD)to
Paris (CDG)
Jan 18 2024 - Jan 22 2024
Boston (BOS)to
Paris (CDG)
Jan 23 2024 - Feb 16 2024
Boston (BOS)to
Paris (CDG)
Feb 14 2024 - Feb 20 2024
Washington, D.C. (IAD)to
Paris (CDG)
Feb 01 2024 - Feb 29 2024
Chicago (ORD)to
Paris (CDG)
Jan 19 2024 - Jan 22 2024
*Fares displayed have been collected within the last 72hrs and may no longer be available at the time of booking
Plan ahead for your trip to Paris with Icelandair
From

Seattle (SEA)

To

Paris (CDG)
Round trip

/

Economy
Mar 07 2024 - Mar 15 2024

From

USD 885*

From

Seattle (SEA)

To

Paris (CDG)
Round trip

/

Economy
Mar 26 2024 - May 11 2024

From

USD 1,002*

From

Seattle (SEA)

To

Paris (CDG)
Round trip

/

Economy
Apr 13 2024 - Apr 22 2024

From

USD 1,009*

From

Washington, D.C. (IAD)

To

Paris (CDG)
Round trip

/

Economy
Mar 14 2024 - Mar 25 2024

From

USD 554*

From

Chicago (ORD)

To

Paris (CDG)
Round trip

/

Economy
Apr 04 2024 - Apr 08 2024

From

USD 555*

From

Chicago (ORD)

To

Paris (CDG)
Round trip

/

Economy
Mar 05 2024 - Mar 26 2024

From

USD 530*

From

Chicago (ORD)

To

Paris (CDG)
Round trip

/

Economy
Apr 18 2024 - Apr 28 2024

From

USD 555*

From

Washington, D.C. (IAD)

To

Paris (CDG)
Round trip

/

Economy
Apr 08 2024 - Apr 18 2024

From

USD 554*

From

Boston (BOS)

To

Paris (CDG)
Round trip

/

Economy
Mar 10 2024 - Mar 17 2024

From

USD 674*
*Fares displayed have been collected within the last 72hrs and may no longer be available at the time of booking
What to see and do in Paris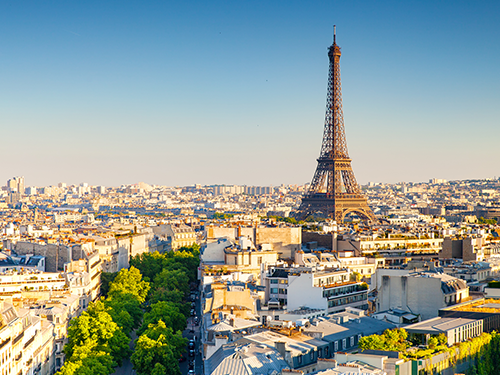 Best time to fly to Paris
With its wealth of museums, restaurants, and cultural sights, Paris is a great city to visit year-round.
When it comes to booking flights, the best time to fly to Paris varies based on what you want to get out of your trip.
The busiest periods are during the warmer months between June and September, as well as all of December. So be sure to book well in advance if you plan on traveling then.
You can beat the crowds by booking airline tickets to Paris in April or October when the weather is still fairly warm but it's less busy than in the peak season.
Traveling on a budget? The cost of flights to Paris, France tend to be lowest in November.
Getting around Paris (and beyond)
Paris is a city famous for its seamless and interconnected metro system, making it easy to discover the city.
There's also a public bus network, and taxi apps such as Uber and Lyft are worth downloading before you arrive.
The city is also a great base from which to explore more of France, and some travelers choose to take a domestic flight to areas such as Toulouse in the South of France.
Paris is home to 7 major train stations, all servicing different areas of the country, as well as other European cities. With so many options, it's a great place to start your French vacation.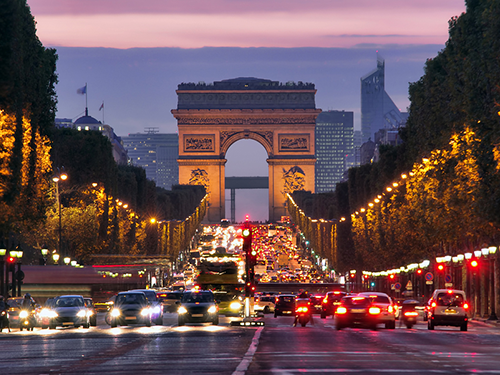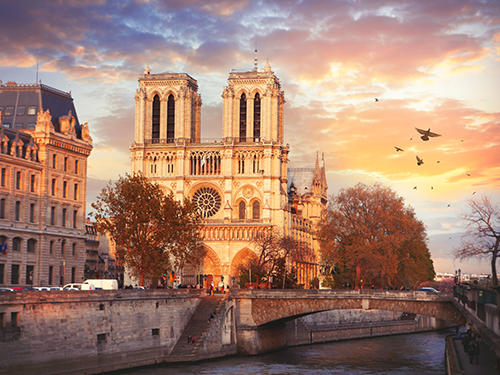 Must see things in Paris
When it comes to activities and tourist spots, there's plenty to choose from in the City of Love.
Travelers can enjoy views for miles from the Eiffel Tower, or peruse stained-glass perfection at Notre Dame Cathedral, located in the iconic latin quarter of the city.
Alternatively, take a trip to see the ethereal Mona Lisa at the Louvre, browse artist stalls and watch buskers at Montmartre, or take a boat trip along the Seine.
Taking a day trip to the gilded treasures of Versailles is also highly recommended. And how could we forget the stunning Arc de Triomphe? It's a monument that symbolizes an important time in French history.
Activities to do in Paris
When you need a break from sightseeing, you can find a shady spot in the Jardin du Luxembourg, or look for smaller museums and galleries away from the tourist-heavy headline acts.
Shopping – or browsing – is also an excellent Parisian pastime.
Fashion is, of course, synonymous with Paris, and many of the world's great designers call the city home. But it's not all about the designer scene.
There are also countless street markets, vintage boutiques, and department stores to explore between checking out the major sights.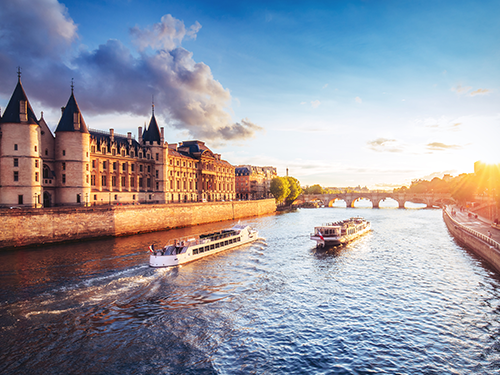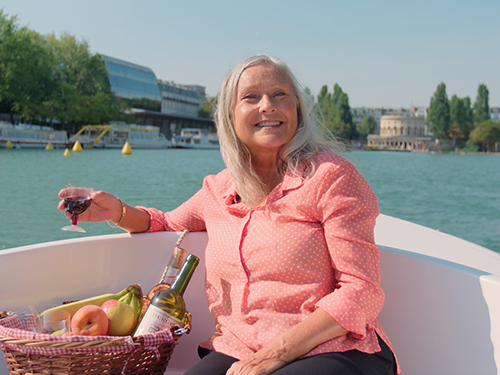 Eat and drink the Parisian way
There's talk that the French invented restaurants as we know them today - and that they've been perfecting the art since.
And there really is something for everyone.
You can browse markets for the finest picnic supplies and feast your eyes on the bright and colorful creations in Parisian patisseries.
Choose to dine at a classic neighborhood bistro, or don your finest wares to enjoy first-class dining in the city.
Where to eat in Paris
It's best to avoid the overly touristy spots and hone in on local bistros for fine plates of classic French cuisine.
If you're after fine dining and Michelin stars, you're in the right city - but be warned that you'll need to book ahead!
If fine dining isn't your thing, you can't go wrong with a crusty baguette, some French cheese, maybe some wine, and a picnic rug. Head to Parc Monceau to enjoy your cozy picnic with a gorgeous leafy view.
Head to Parc Monceau to enjoy your cozy picnic with a gorgeous leafy view.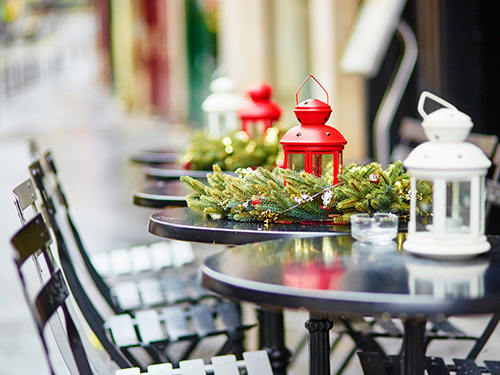 FAQs about travel to Paris
Helpful information for travelers to Paris
What US cities fly to Paris?
How long is the flight to Paris?
The average flight time to Paris from the US is around 8-9 hours. It takes roughly 7 hours to fly to Paris from East Coast locations like New York, and 10 hours to fly from West Coast locations like Seattle.
When you book a ticket to Paris with a Stopover in Iceland, you can break up longer international flights at no additional airfare. Learn more about our stopover packages and plan your round trip to Paris with a touch of Iceland.
How do I get from CDG to Paris?
There are lots of ways to reach the city center from Paris Charles de Gaulle Airport (CDG). You can opt for a train (the RER B line or the free CDGVAL Skytrain Shuttle), the Roissybus, or a private transfer.
Do you need a visa to go to Paris?
US and Canadian citizens can enter France for up to 90 days without a visa (for tourist and business purposes), as is the case for all European countries in the Schengen area. Be prepared that immigration officers may request proof of sufficient funds for your intended stay, and may ask to see a return airline ticket.
Make the most of your trip