Book your flight to Reykjavík with Icelandair from
Fly in the next three months: Flights to Reykjavík
Boston (BOS)to
Reykjavík (KEF)
Feb 23 2024 - Feb 27 2024
Boston (BOS)to
Reykjavík (KEF)
Jan 13 2024 - Jan 17 2024
Boston (BOS)to
Reykjavík (KEF)
Jan 13 2024 - Jan 18 2024
Denver (DEN)to
Reykjavík (KEF)
Jan 06 2024 - Jan 13 2024
Denver (DEN)to
Reykjavík (KEF)
Jan 19 2024 - Jan 21 2024
New York (JFK)to
Reykjavík (KEF)
Feb 08 2024 - Feb 13 2024
Denver (DEN)to
Reykjavík (KEF)
Dec 10 2023 - Dec 14 2023
New York (JFK)to
Reykjavík (KEF)
Feb 12 2024 - Feb 17 2024
Chicago (ORD)to
Reykjavík (KEF)
Jan 24 2024 - Jan 29 2024
Chicago (ORD)to
Reykjavík (KEF)
Jan 14 2024 - Jan 28 2024
Chicago (ORD)to
Reykjavík (KEF)
Jan 28 2024 - Feb 11 2024
New York (JFK)to
Reykjavík (KEF)
Jan 15 2024 - Jan 20 2024
*Fares displayed have been collected within the last 72hrs and may no longer be available at the time of booking
Make the most of your trip
Plan ahead for your trip to Reykjavík with Icelandair
From

Boston (BOS)

To

Reykjavík (KEF)
Round trip

/

Economy
Mar 23 2024 - Mar 28 2024

From

USD 383*

From

Boston (BOS)

To

Reykjavík (KEF)
Round trip

/

Economy
Mar 09 2024 - Mar 13 2024

From

USD 383*

From

Boston (BOS)

To

Reykjavík (KEF)
Round trip

/

Economy
Apr 06 2024 - Apr 17 2024

From

USD 383*

From

Chicago (ORD)

To

Reykjavík (KEF)
Round trip

/

Economy
Oct 08 2024 - Oct 14 2024

From

USD 608*

From

Chicago (ORD)

To

Reykjavík (KEF)
Round trip

/

Economy
Oct 01 2024 - Oct 14 2024

From

USD 608*

From

New York (JFK)

To

Reykjavík (KEF)
Round trip

/

Economy
Mar 22 2024 - Mar 30 2024

From

USD 438*

From

New York (JFK)

To

Reykjavík (KEF)
Round trip

/

Economy
Mar 26 2024 - Apr 01 2024

From

USD 438*

From

Washington, D.C. (IAD)

To

Reykjavík (KEF)
Round trip

/

Economy
Apr 16 2024 - Apr 25 2024

From

USD 488*

From

Washington, D.C. (IAD)

To

Reykjavík (KEF)
Round trip

/

Economy
Apr 17 2024 - Apr 24 2024

From

USD 488*
*Fares displayed have been collected within the last 72hrs and may no longer be available at the time of booking
What to see and do in Reykjavík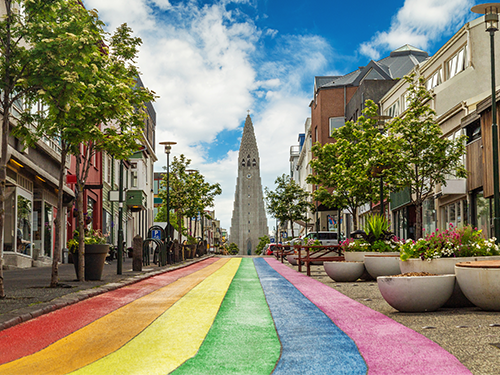 Introduction to Reykjavík
Welcome to Reykjavík – a city that delivers wonder after wonder. From the mesmerizing Northern Lights and the summer midnight sun to the glorious sights on the Golden Circle, Reykjavík is sure to leave you spellbound.
Take a dip in one of Iceland's world-renowned geothermal lagoons, stroll the colorful streets of the capital to your heart's content, or immerse yourself in the city's vibrant arts and social scene. 
Whether you're a nature lover, culture enthusiast, or adventure seeker, a trip to Reykjavík will leave you feeling rejuvenated, refreshed, and raring to go!
Icelandair offers flights to Reykjavík from 12 US airports, including New York, Chicago, and Boston. Use the flight finder tool above to find flights from your nearest airport.
Best time to visit Reykjavík
Each season in Iceland offers something for every traveler. Summer is the most popular time to visit Reykjavík thanks to the milder temperatures, longer daylight hours and array of lively events such as Reykjavík Pride.
Winter in Iceland offers a completely different experience but is by no means less magical. The days are shorter and colder, with only 4-5 hours of sunlight creating the perfect conditions for those hoping to catch sight of the world-renowned Northern Lights. Expect an array of festive events in the lead-up to Christmas and New Year, too.
A trip to Reykjavík during the fall or spring offers the perfect mid-ground between the weather extremes of Iceland's summer and winter. Fall has cooler, darker days and marks the beginning of aurora season, while spring brings longer, brighter days and increased wildlife sightings.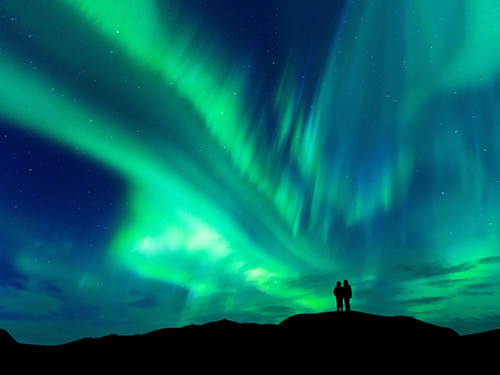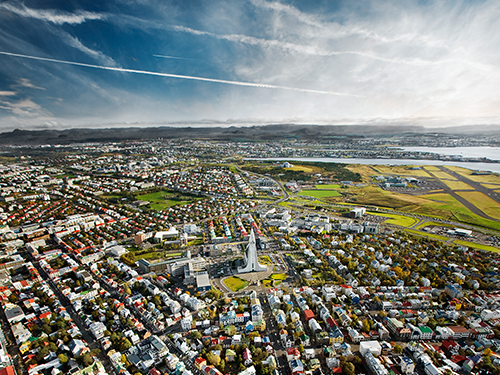 Tours and excursions in Reykjavík
Whether you're passing through town with a direct flight to Reykjavík or planning a full round trip to Iceland, Reykjavík is one of the most exciting Nordic cities there is.
As well as the tours and excursions that depart from the city – there's so much to see within the capital itself that makes extending your stay in Iceland very worthwhile.
For the best views in town, why not see the city from the top of Hallgrímskirkja? It's Reykjavík's landmark church that was modelled on Thor's hammer, but with the handle turned upside down.
Explore the city by taking a walk along the waterfront, harbor and old town, and stop to investigate the art galleries and museums about the Viking era and Icelandic sagas. A visit to Harpa Concert Hall is another must-see – it's filled with beautiful light and great angles.
Arts and culture
From its status as a Unesco City of Literature to the numerous events and festivals going on, you can rest assured that Reykjavík embodies a celebration of Icelandic culture.
Art and creativity exude from the numerous galleries and fantastic offerings of modern-day locals. Music lovers will adore the city's rocking live music scene and flagship events like Iceland Airwaves. There are also lots of free and cheap activities to get involved in, too.
When you're done with sightseeing, you can rest and recharge in the warm geothermal waters that heat Reykjavík's numerous pools and lagoons. In fact, the centuries-old tradition of relaxing in geothermal baths is one of the most fundamentally Icelandic things you can do. Who knew that cultural education could be so rewarding?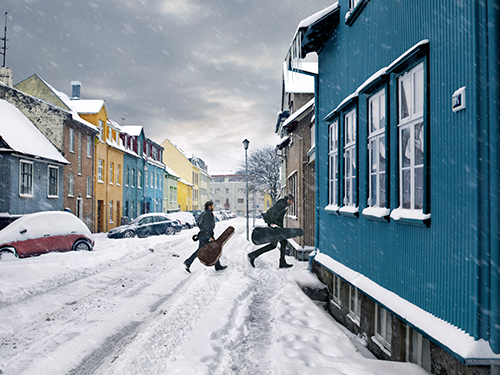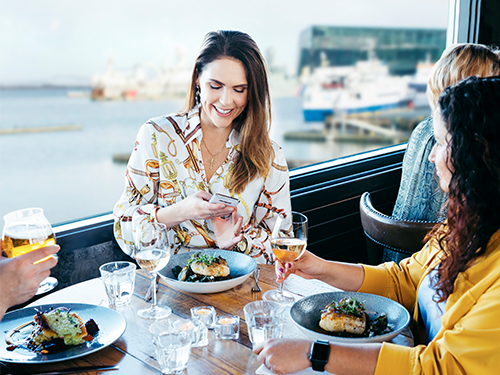 Dining in Reykjavík
Laugavegur, downtown Reykjavík's main street, comes into its own at night when restaurants and bars open their doors. Most local eateries serve lamb and seafood – traditional dishes of Iceland. Restaurants tend to have a 'fish of the day': which is a testament to Reykjavík's harborside location.
If you're traveling on a budget, or simply looking for a quintessentially Icelandic experience, Bæjarins Beztu Pylsur hot dogs are a popular choice. Budget travelers also frequent gas stations, supermarkets, and the food market in Kolaportið.
Those looking for a unique dining experience will find that Reykjavík boasts an array of high-end restaurants showcasing the best Icelandic ingredients in innovative ways.
Whatever your budget or taste, you'll find eateries from all over the world in Reykjavík thanks to Iceland's international community.
Shopping in Reykjavík
Shopping in Reykjavík is a must-do when visiting Iceland. The city is home to a diverse range of shops and markets, offering everything from high-end fashion stores to quirky souvenir shops.
Head to Kolaportið flea market or browse the new breed of boutiques and studios down at Grandi, near the Old Harbor, for a fun afternoon of retail therapy.
Be sure to stop by what Icelanders refer to as 'puffin stores' (souvenir shops) to find authentic, locally made artwork, fashion and design objects. And if you're a fan of traditional knitwear (lopapeysur), check out the handmade knitwear shops for an especially Icelandic souvenir.
For those in search of luxury goods, Reykjavík boasts several high-end fashion boutiques and department stores. No matter what you're looking for, Reykjavík's shopping scene is sure to delight.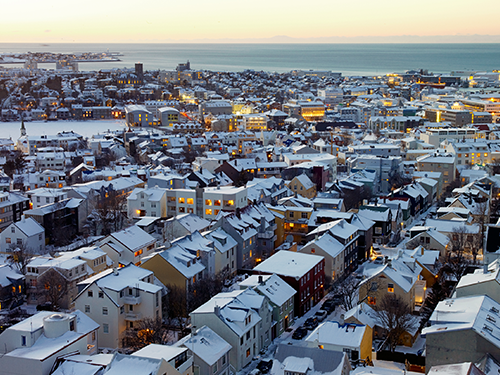 Getting around the city
Reykjavík has a relatively compact city center, meaning that it's possible to get around easily on foot. Most downtown hotels, tourist attractions, and restaurants are within walking distance of central Reykjavík.
Public transport in the city is fairly limited. There is the Straetó – the public bus system – which runs to and from Reykjavík and nearby towns. However, they're mainly used by locals commuting to work.
Tourists who wish to go further afield and visit attractions outside the city may want to consider renting a car or booking group tours and traveling by coach.
Taxis are available in Reykjavík but they're the most expensive way to get around and often need to be booked in advance for airport transfers. Travel to the airport is recommended by bus or private hire, and the journey typically takes around 45 minutes.
Beyond Reykjavík
While we'll sing the praises of our hometown to anyone who'll listen - we also recognize the benefit of Reykjavík as a springboard to the head-spinning landscapes that make Iceland so captivating.
From sapphire-blue ice caves to endless cracked lava fields, we'll show you why that old 'land of fire and ice' slogan is more than just a cliché.
There's so much to be explored: from waterfalls and glaciers to volcanoes, hot springs, and hiking trails – our island nation is brimming with natural treasures and captivating activities.
Check out all tours departing Reykjavík or tap into Icelandair's new, expanded domestic flight route network for the adventure of a lifetime. With Icelandair, you can find the best flights to Reykjavík, add an airport transfer, and book excursions all in one package.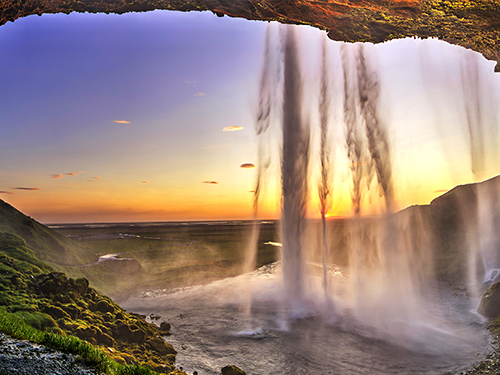 FAQs about travel to Reykjavík
Helpful information for travelers to Reykjavík
How much is a flight to Reykjavík, Iceland?
Flights to Reykjavík from the USA vary in price depending on departure city, time of year, and ticket type. We recommend using our flight finder tool above to check the latest prices for your travel to Iceland.
When is the cheapest time to fly to Reykjavík?
The cheapest time to go to Reykjavík is during the off season. This means visiting between January and May, or September to October. You'll likely be able to find cheap flights to Reykjavík from the USA in the spring or fall.
However, it's possible to find great prices on travel to Reykjavík all year round and we simply recommend booking your flight in advance and being flexible on your travel dates to find the best deal.
Do Icelandair flights to Reykjavík include a stopover?
Icelandair offers direct flights to Reykjavík (KEF) from the US, but some routes include a layover at another airport in the United States.
You can choose to book one-way flights to Reykjavík or plan a round trip without a stopover, or use Iceland as your stopover base before traveling to other parts of Europe.
How long is the average flight to Reykjavík, Iceland?
The average duration of a direct flight to Reykjavík's Keflavík International Airport (KEF) from the US is 6-7 hours.
Flights to Reykjavík from New York (JFK) average at around 5 hours 45 minutes, while flights from Seattle (SEA) are around 7 hours and 30 minutes.
How far in advance should I book a flight from the US to Reykjavík?
Although we offer last minute flights to Reykjavík, we recommend planning your trip in advance to have a better selection of flights and hotels and get the best price for your trip.
Travel tips for your trip to Reykjavík